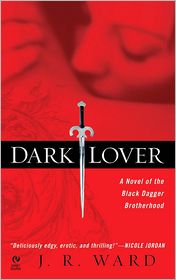 Buy it now!:
Barnes and Noble
Amazon
What is the book about?
Each book in this series contains a story about one of the brothers of the Black Dagger Brotherhood. The first one is the King's book. His name is Wrath and he feels deeply obligated to help his Brother, Darius to take care of his daughter. Beth. She is going to be going through the change soon and Wrath's knows she will need his help. Everything is friendly at first, until he falls for Beth. Becoming a vampire is hard enough, but being introduced into the Brotherhood is something entirely else, and it is overwhelming. He quickly bonds with Beth, and she becomes his queen.
What did I think of the book?
I absolutely love the beginning of this series. It's dark, sexy, mysterious and so much fun to read. Vampire lovers out there have got to start this series!