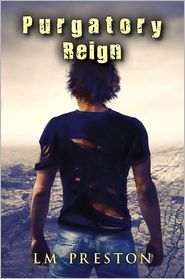 Buy it now at:
Amazon Kindle
Purgatory Reign
Review
Peter Saints parents were killed and now he's living in an orphanage under the care of Paster Finn who is trying to teach Peter about religion, and being a better person. Only, he isn't succeeding very well. Peter is constantly beating up bully's who are picking on the weak.
Initially, I thought there was no hope for Peter, and he might have too much evil inside him, but later on in the book, I learn there is so much more beneath his tough exterior.
Peter meets Hannah who dies quickly after they meet, and she gives him a gift that will come in great use in the near future.
Paster Finn advises Peter to run from the people who killed his parents, and do everything he can to not get caught. While on the run, he meets another run away named Angel. While on the run, they come close to getting caught in Georgia, but are fortunately saved by Kyle. Soon, they have formed a small group of runaways until they find a safehouse.
All throughout this book, I was a bit confused as to who they were running from, someone who is so evil, and I didn't get my answer until the near end, which was frustrating. I almost felt lied to by the author, lying by omission of the evil characters.
Preston does a great job at using exceptional descriptive words that really put the pictures in your head almost like a movie. I found some parts to be a little bit to drawn out with descriptions, but overall it balanced itself out pretty well.
Overall I give this book 4.5/5. I only leave .5 off for the lengthly parts in the book that seemed to drag on a bit too long for me.
Add me on